Biscuits and Turkey Sausage Gravy
Simple, with our Purnell's Turkey Sausage, all-purpose flour, milk salt and pepper, poured over hot biscuits. Its Gooo-od!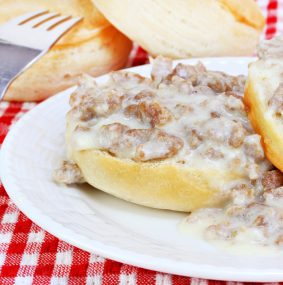 Directions
Cook sausage or hamburger meat in large skillet on medium heat until browned.
Stir in flour until dissolved.
Gradually add milk and cook until thick and bubbly.
Add seasonings to taste.
Pour and serve over biscuits.
Ingredients
Recipe adapted from our Facebook friend Cooking with Libby.
See the original recipe here
1 lb. Purnell's Turkey Sausage
1/4 cup all purpose flour
2 cups milk
Salt, Pepper, and Season All to taste (if using hamburger meat)
Cooked Biscuits (homemade or frozen)